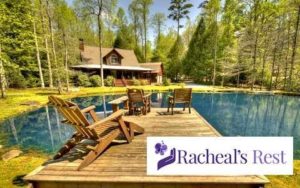 Dr. Karen McDonald is the author of Racheal's Rest's BLOGS. Dr. Karen is a board-certified Christian Counselor through the Georgia Board of Examiners for Christian Counselors and Therapists and currently leads all Racheal's Rest retreats. She is a trauma specialist that sees adult, teen and child clients ages 3 and up in her Kennesaw, Georgia location. Karen grew up with domestic violence and sexual abuse on a daily basis. She survived and developed a passion for helping others find restoration from abuse. Because she has struggled through her own journey of recovery, she knows how much courage and determination it takes to overcome the fears, shame and guilt, spiritual confusion, relationship issues, and parenting difficulties survivors face. Furthermore, she has wisdom, training and skills to pass along techniques to those who are ready to change their lives. You can look forward to Dr. Karen's BLOGS at least once a month….if not more!
These BLOGS are thoughts, tools and experiences that Karen wanted to share with you and are in no way "counseling". If you, or someone you know, has been the victim of sexual abuse, sex trafficking and/or domestic violence issues, contact us today to get more information about Racheal's Rest private counseling, workshops and retreats to begin your journey to emotional health.
We are so happy to announce that Broken Chains International has adopted Racheal's Rest's restorative programs!!! Dr. Karen McDonald has been working closely with Kevin and Broken Chains International for several years and we are a GREAT FIT!
Look for BIG BIG BIG announcements and changes in the coming months! SO EXCITED!